Recap of Broadcast India Show 2016
Share
November 30, 2016
This is how our Media solution became the main attraction at Broadcast India Show-2016.
At the heart of the Indian Broadcast & Film industry lies the Broadcast India Show, which was held on 20th Oct – 22nd Oct 2016 at Bombay Exhibition Center, Mumbai. This event is globally fuelled with broadcast, entertainment, film, audio, radio plus anything and everything to do with the new-age infotainment industry - from its content creation to its management and delivery.
Here we start narrating our story -- Lights, Camera, Action.
Take 1:
On the first day, we were mesmerized by colourful studios, which depicted the jazziness of the media & entertainment industry. Our booth sat on D-404, which had an eye-catching design.
At our stall, we showcased "Virtual Reality", "Augmented Reality" and "Holographic Projector" which attracted most of the visitors. We were equally excited to see their expressions when we told them about Valtech's innovations.
Additionally, our media services visitors were keen to understand our "Ready4AIR" framework, which effectively deploys OTT/VOD application across various devices. They also wanted more info on how to sell premium video to consumers and our end-to-end OTT Solution architecture
Take 2:
After connecting to the top industries like Media, Broadcast, Entertainment, Fashion, Telecom, Radio and walking through our solution (Ready4AIR), we also had attendees experience our innovative AR/VR(oculus) Solution. We had tasted the essence of the need for our solution in the industry.
Take 3:
By now, we had almost done with the 3 days of the event and were about to pack when suddenly a team of event organizers arrived at our booth. We were puzzled to see them there, they came with the award …………... Yes! We won an award for "the most imaginative use of shell scheme space" for our exclusive creativity.

Our Story Review shared by our Performer's:
"Very Trendy Place and different set of audience, very curious to know what is new in this space – new experience for Valtech"- Says Sujatha Balakrishnan, Managing Director
Follow the link to watch interview of Mrs. Sujatha Balakrishnan-MD during the event: https://lnkd.in/fq_XmWc
"Valtech was very happy to be part of the Broadcast India event. This is possibly the biggest Media event in India and has a broad spectrum of entertainment market covered. We were unique in our proposition in this event with Advanced Media solutions; Virtual Reality based solutions and Holographic Projection systems. We saw a lot of interest for our innovative solution which stood out amongst the crowd"
"Happy to have received the award for Most Innovative Stall Design for this year's BI event. We look forward for the next year event. Cheers!"- Says Saurabh Chakraborty, Head of Media Solutions
Great event, very professional booth and execution (We won a prize), Good discussion with people walking by the booth, a few people was the right people from the industry for Valtech to talk to. On the downside, not a lot of people from the target list didn't showed up, but definitely worth the trip, and hopefully a good investment for winning new projects. Says Martin Eiler, Director of Media Sales
"Great experience being part of the media event and connecting to the right guys and strategies how our Solution can help them which in turn helps us to partner into the crazily developing media Industry" – Says Sowmya Bharadwaj, Sales & Marketing
AWESOME event! It was great to be on such big platform, Great opportunity to understand Media industry, Crowd was amazingly excited about Valtech's innovation, got a power booster by Valtech's Media solutions branding and PR opportunity, Looking forward for some exciting engagements - Says Akshata Kotharkar, Research and Marketing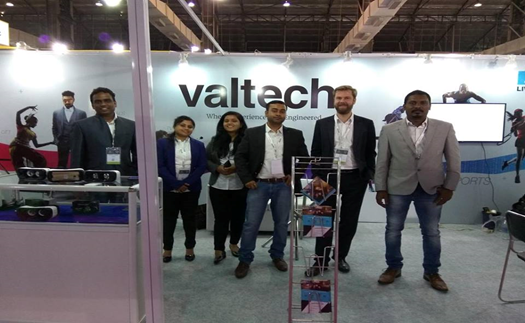 Lastly, it was a blockbuster experience! To be on such a large platform and experience gaga of the media industry, special thanks to "Broadcast India Show 2016" and to the team - Event coordinator, Creative, Sales & marketing and our Thought Leaders for making it a great success.
For more information about our media service please contact Saurabh Chakraborty- Head of Media Solutions Saurabh.Chakraborty@valtech.co.in / Charm Sundar- Senior Manager, Media Solutions Charm.Sundar@valtech.co.in